Unit Code: v-Enca
Amazing and relaxing vacation! Gorgeous property!!
Reviewed on 2022-03-14 by Irina W. , Glen Allen, VA US
Overall
Services from rental manager
Cleanliness
Location
Property condition
There were 5 couples celebrating my 40th! We enjoyed our stay so much!! Grounds were absolutely gorgeous, we spent most of our week just hanging out by the pool, laying out, eating under palapa, happy hour on the rooftop. House provided a housekeeper and a groundskeeper. They were the most hard working people. This was one of the best vacations I had, everyone loved the house and the grounds!! Would love to come back again!!
50 th bday trip
Reviewed on 2022-02-21 by Deborah P. , Granite Bay, CA US
Overall
Services from rental manager
Cleanliness
Location
Property condition
The house was very relaxing with beautiful view. Staff is great. We had an amazing time.
an incredible view and a garden filled with palm trees
Reviewed on 2022-02-19 by David D. , Les adrets de l'eseterel, Var France
Overall
Services from rental manager
Cleanliness
Location
Property condition
we did not have a good weather but the place is ideal ideally located near tulum which is a fantastic place but also akumal where you swim with turtles the house is large and functional the decoration is old but of good quality
Wonderful!
Reviewed on 2021-11-29 by , Tustin, CA US
Overall
Services from rental manager
Cleanliness
Location
Property condition
First class...!
Akumal Dream
Reviewed on 2021-07-07 by Dave E. , Frisco, TX US
Overall
Services from rental manager
Cleanliness
Location
Property condition
This home is spectacular! The photos don't do it justice. The back of the home is your own private beach-like paradise with an ocean view that can't be beat. The inside of the house is gorgeous as well. The property was very clean, very well maintained with daily work done inside and out by Laura and Andres, who were both great. We would recommend this to anyone, but particularly to families or groups that are all adults. All the beds are king sized, and each bedroom has a floor to itself, with one exception.
Heaven - Casa Encantada
Reviewed on 2020-08-05 by Paul K. , Tlajomulco, Jalisco Mexico
Overall
Services from rental manager
Cleanliness
Location
Property condition
We originally booked for Easter week but had to postpone due to the pandemic. Reservations promptly responded to offer date change, which suited us fine, and we re-booked for late July. We arrived on a Sunday so we used the key-box to get the key and let ourselves in, we were delighted to find the house in impeccable condition with the outdoor spaces especially better than the pictures. We were two families with a total of 9 and it was perfect, plenty of space for everyone, great beds, closets, bathrooms for each room, super views from 3 rooms and the others very acceptable. The kids were happy to find the downstairs TV room in addition to the spacious areas on the main level. The master bedroom with a wonderful outdoor jacuzzi on the large balcony was amazing. best of all are the outdoor spaces which are expansive with a very functional dining table under a nice palapa, a really nice pool looking onto the ocean and a wide garden which provides a great ambiance. The direct access to the beach is great, the beach itself is limited right in front of the house with allot of coral which makes it a little difficult to get in and out, a short walk toward Akumal Bay and the beach expand and the water is great.
The highlight of our stay was the service, we booked with added chef service for breakfast and dinner, in a word it was "outstanding", the quality was excellent and really great value. It made our stay all the more comfortable, relaxing, and enjoyable.
In addition, the daily cleaning and maintenance service provided by the staff was outstanding.
We did not move around much as the house is so great on its own, although we had rental car. We did drive to Tulum where visited a cenote and had lunch on the beach, we also rented a yacht out of Puerto Aventura which was nice.
Overall, it was an amazing experience, great property, great location, and above all incredible service and attention. Well worth every penny.
Leave a Review
[2]
Convenience
Cenotes nearby
Medical Services Nearby
Nearby Grocery
Restaurant w/in Walking Distance
Spa Nearby
Yoga studio nearby
short drive to Akumal
Type
Villas and Vacation Homes
ENTERTAINMENT
DVD Player
Satellite / Cable
Television
Search Availability
Leave Review
[2]
Find your zen in this beautiful beachfront house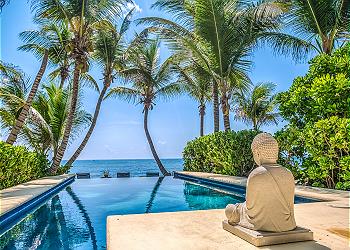 [3]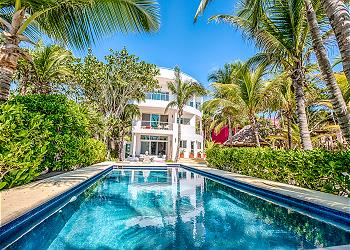 [4]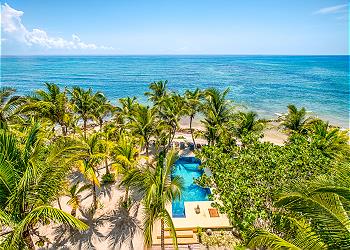 [5]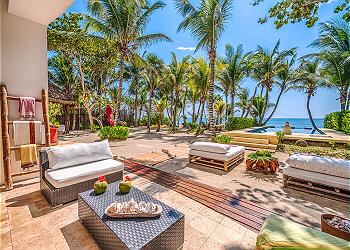 [6]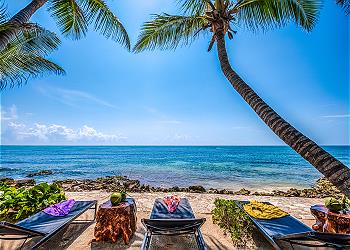 [7]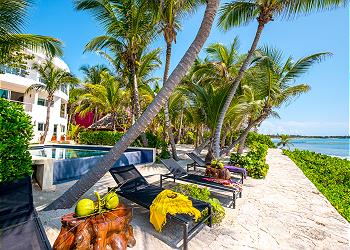 [8]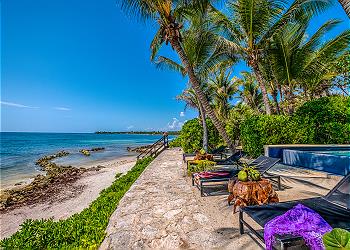 [9]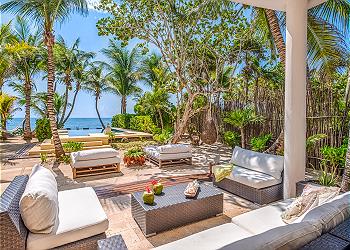 [10]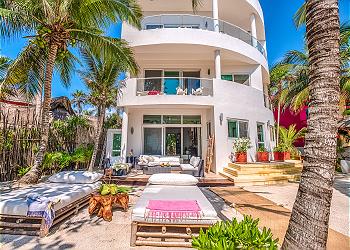 [11]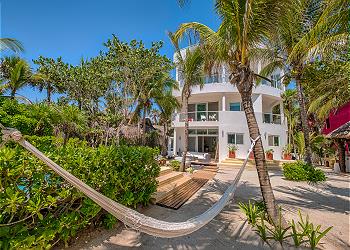 [12]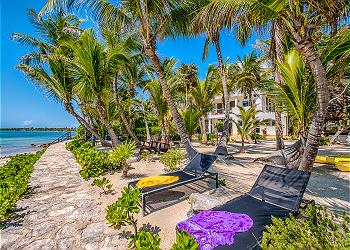 [13]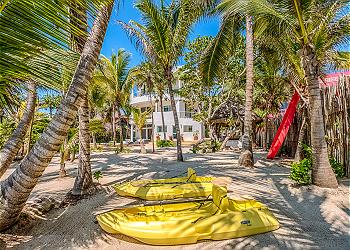 [14]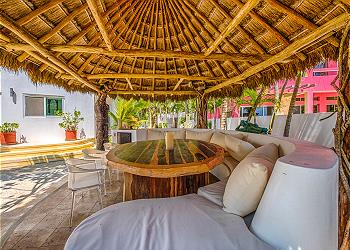 [15]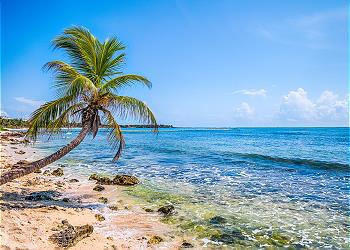 [16]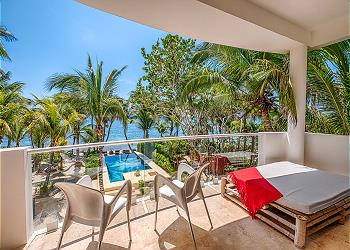 [17]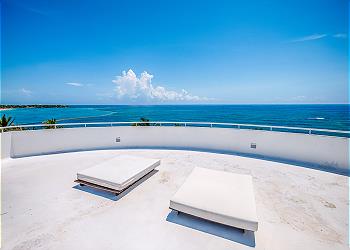 [18]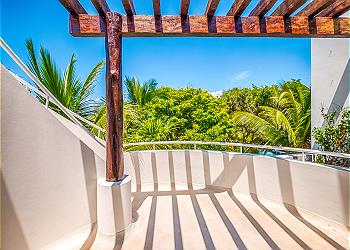 [19]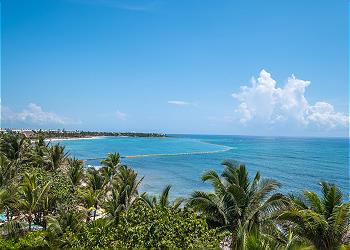 [20]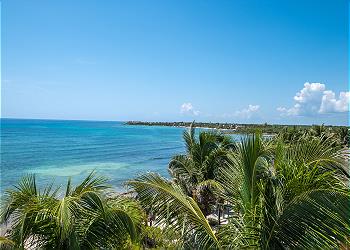 [21]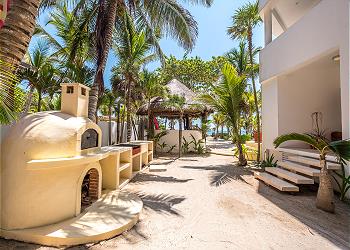 [22]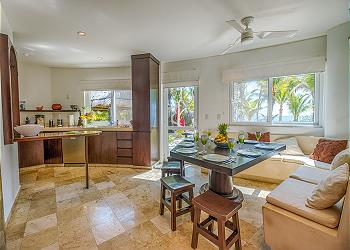 [23]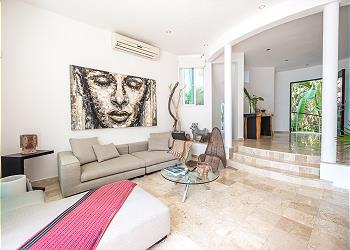 [24]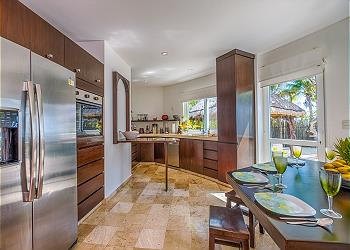 [25]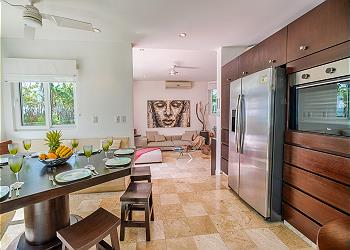 [26]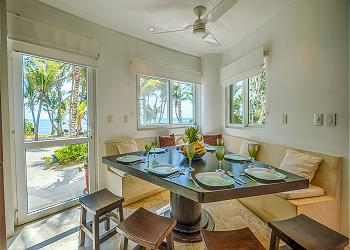 [27]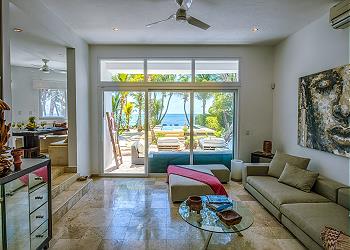 [28]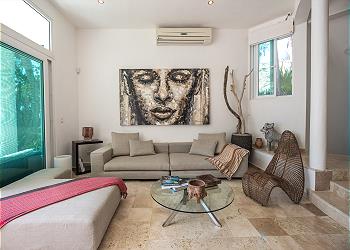 [29]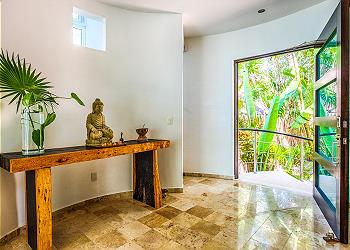 [30]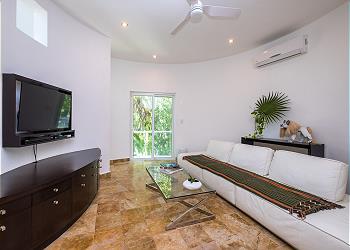 [31]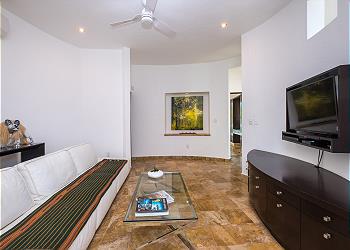 [32]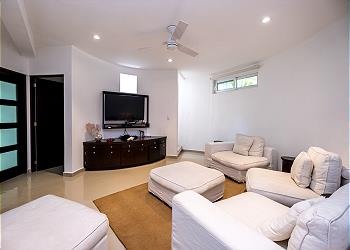 [33]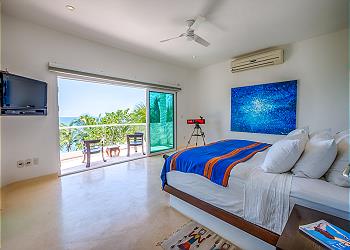 [34]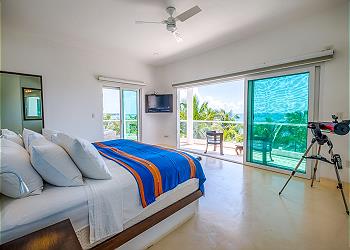 [35]
[36]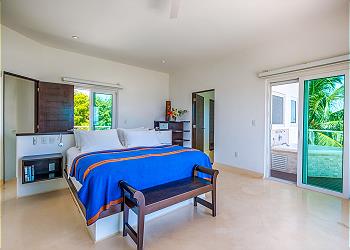 [37]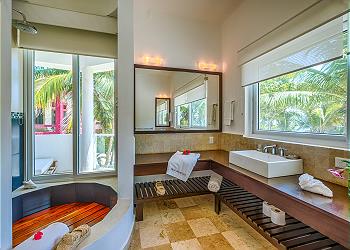 [38]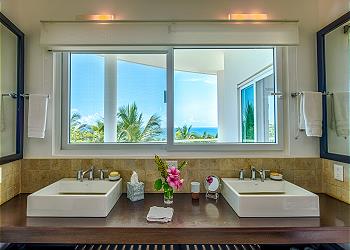 [39]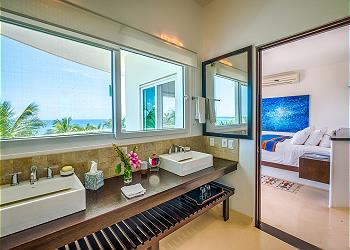 [40]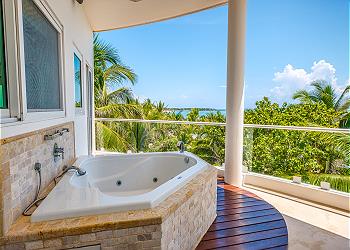 [41]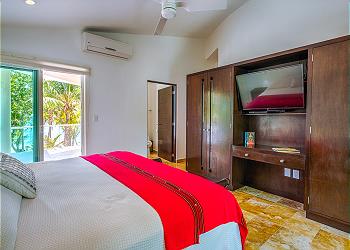 [42]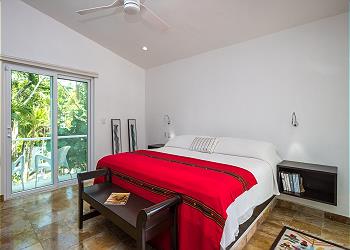 [43]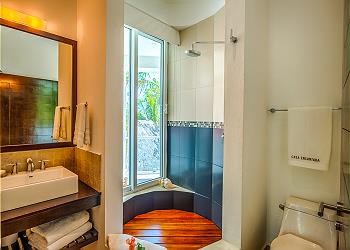 [44]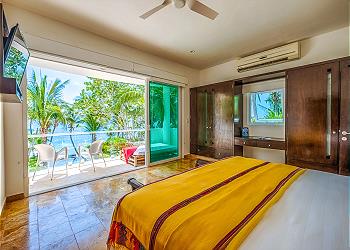 [45]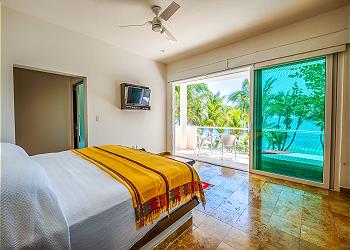 [46]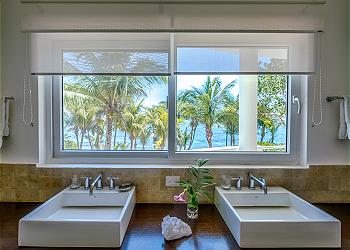 [47]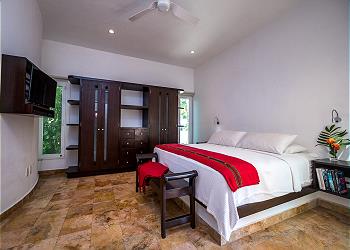 [48]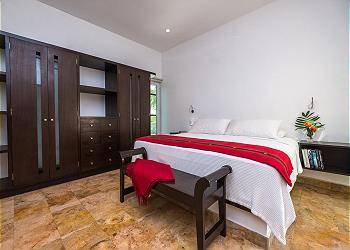 [49]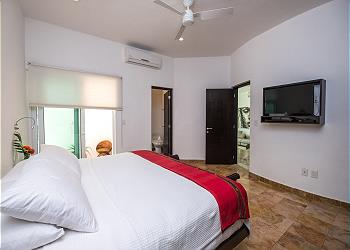 [50]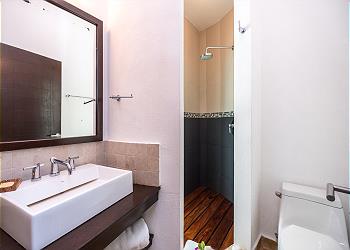 [51]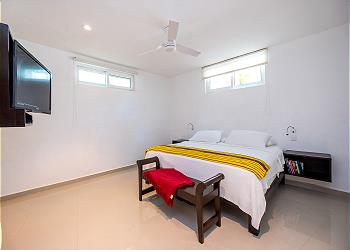 [52]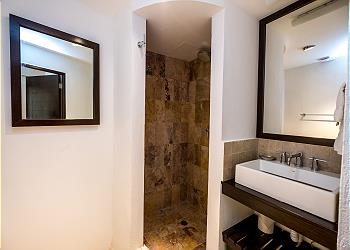 [53]
5 Bedrooms
5 Baths
Style and Tranquility on the Caribbean in Jade Bay
Encantada means "charmed or enchanted" in English and this home lives up to its name.  Tucked away a palm tree lined beach, this elegant 5 bedroom oceanfront home offers direct access to greater Akumal Bay. Privacy and seclusion are yours as you lounge around the infinity edge pool surrounded by lush gardens and views of the Caribbean.   
This estate is its own oasis with a number of outdoor lounge and sitting areas, including a large outdoor dining area that is ideal for entertaining. The large swimming pool overlooks the blue water and features two oversized sun beds.  Luxury on the beach! 
Casa Encantada the perfect set up for groups looking for upscale living with lots of room. The large entry welcomes you into this exclusive home. Immediately upon entering you can feel a zen like pleasure take over as you soak in the well appointed living room with its incredible artwork and take in the views of the beach from the large sliding glass doors beyond. The living room is one of three chic and well designed indoor living areas.
Off the living room is a fully equipped kitchen with a large table where you can gather and enjoy home style breakfasts while sipping on freshly brewed coffee. Chef services are available for an additional cost so you wil receive the full culinary experience of enjoying local foods and gourmet dishes.
Casa Encantada spread out over 4 levels and features 5 bedrooms each with their own ensuite bathroom and Satellite TV. The main floor guest room has a small terrace that leads out to the side yard and beach. The basement suite has a family and media room and separate bedroom with king bed. It also has two entrances, one from the exterior and one via an internal staircase. 
The 2nd floor has two large bedrooms that are accessed via the spiral staircase that connects the different floors. One is a master bedroom with large oceanfront terrace and bathroom with views of the beach. The guest suite also has its own terrace with partial ocean views. The bedrooms are connected by living area with TV and sofa.
The 3rd floor has been converted into an expansive master suite with the stunning ocean views. The bedroom features large ensuite bathroom with his and her sinks. The terrace leads out to the Jacuzzi tub.  From the 3rd floor bedroom, you can access a garden balcony the leads to a rooftop terrace. Here there are two large beds for stair gazing at night.
With such lovely weather year round, the exteriors of the house are designed to ensure you have everything you need to enjoy the outdoors. The villa offers kayaks for cruising the bay as well as lots of outdoor sitting and lounge areas. The palapa covered outdoor dining area the place to gather after creating memorable meals with the built in grill and wood oven. You can also sit down with a book in the large oceanside terrace.
Casa Encantada is located on the north end of Jade Bay so you can stroll the 15 minutes along the beach to Akumal Bay and the main area of town. Be sure to visit La Taverna where guests of Casa Encantada receive a special 10% discount!
Location:
Casa Encantada
Jade Bay Beach
77760
Akumal
Mexico
20° 23' 18.996" N, 87° 19' 14.0556" W
MX