Unit Code: C-Bahia3
Good spot, but maybe not in July
Reviewed on 2021-07-19 by Jane M. from San Antonio, TX US
Updated on 2021-07-19
Services from rental manager
Cleanliness
Location
Property condition
Everything works in the condo. It's cute and bright. Love the tiles in the bathroom. Made me smile when I went in. Having a patio with chairs out there is a nice way to view the water. The reason I suggest not coming in July, is the sea weed is so bad. There is no swimming and I'll come all day and the seaweed is mounted several feet high. It begins to smell after days and days of decomposing in the sun. I feel terrible for the locals because not only do they live with it for the entire season, but it's bound to affect tourism. <br/>One huge asset with this condo is having the guys downstairs at the front desk. A lot of Airbnb rentals don't have this. They're helpful,and got a couple items taken care of very quickly. They can answer all your questions too. There are more than a few awesome cenotes in the area to go to in addition to some fantastic restaurants.
Wonderful get away!
Reviewed on 2021-04-02 by Amy P. from CHADRON, NE US
Updated on 2021-04-02
Services from rental manager
Cleanliness
Location
Property condition
Our 2 adult daughters and us had an amazing time at La Bahia. The kitchen was well stocked, unit clean and detail to fun. The staff on site were helpful with all of our needs. The only downfall was the seagassam had moved in the day we arrived. Not the problem of the unit
Leave a Review
[2]
Convenience
Cenotes nearby
Craft Shopping
Dive Shop w/in Walking Distance
Local Library in Akumal
Short Walk to Yal Ku Lagoon
Eco Parks nearby
Short drive to Tulum
Walking Distance to Restaurants
DisplayRate
$120 - $311 US / Night (Tax Not Included
ENTERTAINMENT
Books
Satellite / Cable
Television
Search Availability
Leave Review
[2]
Vibrant condo perfect for a couple or small family!
[3]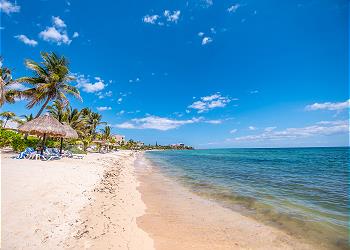 [4]
[5]
[6]
[7]
[8]
[9]
[10]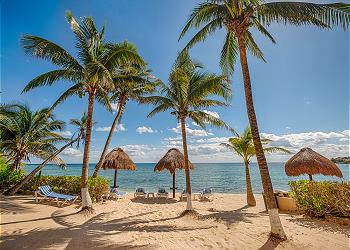 [11]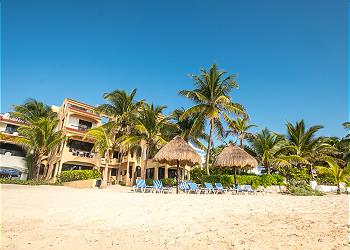 [12]
[13]
[14]
[15]
[16]
[17]
[18]
[19]
[20]
[21]
[22]
[23]
[24]
[25]
[26]
[27]
[28]
[29]
[30]
[31]
[32]
[33]
[34]
[35]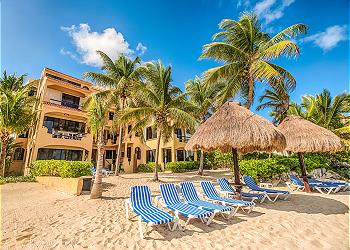 [36]
[37]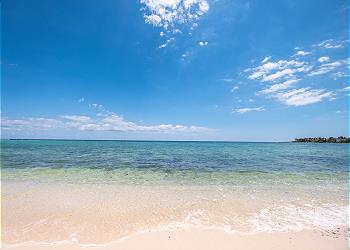 [38]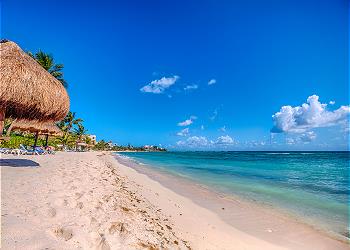 [39]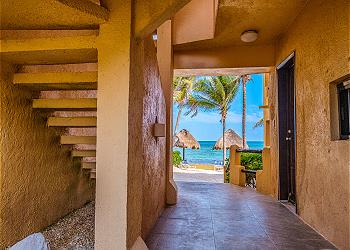 [40]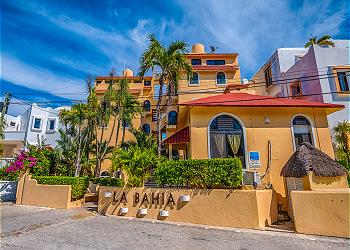 [41]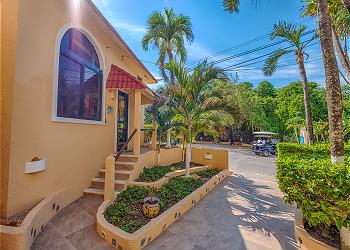 [42]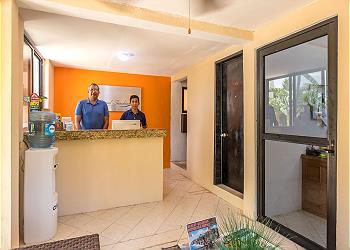 [43]
2 Bedrooms
2 Baths
The La Bahia condominiums have an outstanding beachfront location in the center of Half Moon Bay, an area known for its uncrowded beach and great snorkeling. From here you're only a short walk from Akumal Bay, its pristine beach and many of the local restaurants and boutiques.
This unit has a spacious open floor plan and draws from traditional mexican design with bright colors and painted tiles. The master bedroom is furnished with a king bed and an ensuite bath. The second bedroom has one twin bed and one double along with its own private bathroom. The kitchen is fully equipt and the dining area will comfortably seat four people with extra seating at the counter bar. The living area has a large and comfortable seating area, a smart TV with Netflix access, and is surrounded by a spectacular view of the caribbean. The private terrace has been fitted with another seating area, making it the perfect place to sip your morning coffee, enjoy a romantic evening, or simply relax and experience the ocean air and sun.
La Bahia #3 is a great value with a spectacular location. The La Bahia condominiums are professionally managed with staff who are attentive and happy to assist you however they can.
KINDLY NOTE: During the summer months, south winds may bring Sargasso Seaweed to some beaches throughout the Caribbean, including the Riviera Maya. Please know that our onsite teams work very hard to ensure the best possible beach conditions for your stay. As a consideration, you may also see special seasonal discounts applied to during the summer months.
The Riviera Maya is full of natural beauty, places to explore and opportunities for outdoor activities. We have a great list of activities and adventures completely unaffected by the arrival of sargasso that we would love to share with you. There is so much to see and do in this special place, we know that you will have an amazing and memorable vacation!
Location:
La Bahia condos
Half Moon Bay
77760
Akumal
Mexico
20° 24' 20.5092" N, 87° 18' 31.2552" W
MX