Unit Code: C-LA5
Beautiful Akumal
Reviewed on 2022-01-03 by Heather Z. from La Mesa, CA United States
Updated on 2022-01-03
Services from rental manager
Cleanliness
Location
Property condition
We enjoyed our stay in Akumal. The house was great and looks exactly as shown in the photos. Location is good and near La Buena Vida restaurant and a small market. The staff at the office is very friendly and helpful. The house was very clean, kitchen had everything you need, SmartTV in each bedroom, and blow dryers were available on both bathrooms. I would recommend renting a golf cart as we used it daily to go into the main part of town for breakfast and or dinner. Our only complaint is the beds could be more comfortable in the guest bedroom. We absolutely loved Akumal.
The Perfect Place to Get Away, Relax and Enjoy
Reviewed on 2022-01-02 by Courtney B. from Eureka, CA US
Updated on 2022-01-02
Services from rental manager
Cleanliness
Location
Property condition
This spot was a perfect location complimented by incredible guest management. I wanted a relaxing location where I could spend all day looking and hearing the sounds of the ocean. I got this and so much more. We went snorkeling, rented a golf cart to drive into the little village, and swam/hiked in an underground cave. The nearby restaurants served tasty food. But what stood out was how helpful all of the staff was to help us navigate our trip, get taxi's and transportation, correct our mishaps (lost the key to the golf cart), and be pleasant all the time. The maintenance team kept the place spotless. I couldn't have asked for a more perfect location and experience. Just what I needed & wanted. Thank you.
Perfect Spot!!!
Reviewed on 2021-12-14 by ELISSA C. from Glendora, CA United States
Updated on 2021-12-14
Services from rental manager
Cleanliness
Location
Property condition
Before deciding on Unit#5, I did a lot of research. I had preferred a condo with a pool, but this unit and price was perfect. The unit is beautiful and the view and sound of the ocean is unmatched. We were able to walk to a little store, to La Buena Vida and La Lunita. It's located walking distance to the most amazing snorkeling of Yal-Ku Lagoon. We also went to Xel-Ha, Xpu-Ha and the monkey sanctuary. All VERY close. Went to Lol-Ha and listened to a band. Swam with the turtles and went to Puerto Aventuras and Playa Del Carmen. Everything close and easy. The office staff and cleaning staff were wonderful. We rented a car and that was our only initial difficulty(nothing to do with this rental unit) Do NOT use or any other at the airport. After America Rental Cars failed to pick us up at the airport, we called Yes Rental Cars. They provided amazing service for a total of 7 days with insurance and taxes for $315. The night before our trip to Xel-Ha, the car was acting up. I called at 10:00pm and they dropped off an upgraded car by 8:00am the next morning. You definitely need water shoes for most swimming. Miss being there already.
Akumal Luna Azul #5
Reviewed on 2010-02-15 by from Wautoma, WI United States
Updated on 2010-02-15
Services from rental manager
Cleanliness
Location
Property condition
We continue to come back year after year because we enjoy the accommodations and the area immensely. The condo is kept clean, we have orioles and warblers in the palm trees off the veranda, we can see turtles and stingrays from the porch and the snorkeling is superb. Throw in some Mayan ruins, the Carribean blue of the water and the sound of rolling rocks on the shore and what more could you want?
Christmas 2009 at Luna Azul, #5, Akumal
Reviewed on 2009-12-30 by Lori N. from Oakland, CA United States
Updated on 2009-12-30
Services from rental manager
Cleanliness
Location
Property condition
Akumal definitely exudes more of an ex-pat versus "authentico" feel, but our family agreed it is the perfect base for a trip to QRoo. The clear and still waters of Akumal Beach lapping up onto the white sand are amazing, as are the shallow snorkeling wonders of Half Moon Bay. And the food! Not nearly enough time to sample all of the exceptional restaurants. Our Akumal favorites were La Lunita (never has grouper been prepared so well as on their Christmas Eve menu & they also win best margarita in Akumal), Turtle Bay Bakery (sticky buns!), Lol Ha (our favorite guacamole on this trip), and Que Onde. As for our condo, a few of the pluses at Luna Azul #5: Location! Sunrise! Clear ocean! Kitchen! Hot water showers! Comfortable beds in spacious rooms! Great restaurants nearby! What I would add if I owned #5: A comfortable chair or two for reading. Improved guest suggestion book with restaurant menus, more detailed recommendations of how-to's, and insider tips. More small rugs. Hints on how to get rid of ants (ouch!). Maps of the area, even if a large wall map. Overall, a lovely place and we were very happy to spend Christmas with our family in Akumal!
Great vacation rental!
Reviewed on 2009-11-22 by Donna & Greg F. from Traverse City, MI United States
Updated on 2009-11-22
Services from rental manager
Cleanliness
Location
Property condition
Marcia Kirby oncer again lead us to a grat vacation rental. The unit needed a few amenities..better towels..radio...over all wonderful memories once again
Reviewed on 2009-10-26 by Tobie B. from Broussard, LA United States
Updated on 2009-10-26
Services from rental manager
Cleanliness
Location
Property condition
This was our second stay in Akumal and second stay at Luna Azul. Everything was WONDERFUL! The staff is so helpful. Jorge at Luna Azul was there when I needed him and extra helpful with anything we (about 14 of us at Luna Azul) needed. We will be back. Marieke was also wonderful. She picked up where Leslie left off and was absolutely amazing. The entire staff is probably the best of any place that I have visited.
Luna Azul Review
Reviewed on 2009-04-28 by Debra B. from Union, KY United States
Updated on 2009-04-28
Services from rental manager
Cleanliness
Location
Property condition
Great place for a family vacation. It's quiet, but not too secluded. Plenty of services nearby. Good snorkeling just outside the door in the bay. Plus the lagoon is just a short walk away. The Mayan ruins of Coba and Tulum are each a fun day trip. (Just arrive early to avoid the crowds and heat.) The only minor problem was having to open the south window in the living room in order to get internet connection.
Reviewed on 2009-03-02 by Andy P. from Superior, CO United States
Updated on 2009-03-02
Services from rental manager
Cleanliness
Location
Property condition
Reviewed on 2009-01-21 by Elizabeth F. from Portland, OR United States
Updated on 2009-01-21
Services from rental manager
Cleanliness
Location
Property condition
The space is open, cheery, well laid out, and has a wonderful ocean view. It comfortably accommodated dinners for 11 (our family staying elsewhere). A nice breeze flows through the unit, and the sound of waves is lovely. The staff was professional and helpful. Other guests were unnecessarily territorial about the limited beach lounges, which was unpleasant. Overall, we would highly recommend the place.
A perfect first "Destination Christmas"
Reviewed on 2008-12-29 by Laurie W. from Littleton, CO United States
Updated on 2008-12-29
Services from rental manager
Cleanliness
Location
Property condition
This is the 3rd time in the past 4 years that we have returned to Luna Azul and soaked up the wonders of Akumal. We love staying at Luna and don't even discuss finding an alternative place.
Highly recommended
Reviewed on 2008-07-30 by Elizabeth L. from United States
Updated on 2008-07-30
Services from rental manager
Cleanliness
Location
Property condition
As usual I had a great stay in Akumal. I stayed at both Luna Azul & The Reef condos. I have been going to Akumal for the last 20 years. Although it's getting to be more known, it's still the best kept secret south of Cancun.
Reviewed on 2008-05-10 by Gayle Z. from Oakland, CA United States
Updated on 2008-05-10
Services from rental manager
Cleanliness
Location
Property condition
A wonderful, secluded, beautiful spot.
Reviewed on 2008-04-26 by from Corona, CA United States
Updated on 2008-04-26
Services from rental manager
Cleanliness
Location
Property condition
We were awestruck by the beautiful sunrises, the gentle waves breaking on our private beach and the balmy weather in December. There were several wondeful restaurants in the area and terrific snorkeling. Esp4ecially liked the lagoon about half a mile away. I would definitely recommend this condo and would go again. The only negative we found was the access road. It was hard to negotiate, but was being worked on so perhaps is better by now. Too many pot holes!
Leave a Review
[2]
Convenience
Cenotes nearby
Local Library in Akumal
Medical Services Nearby
Nearby Grocery
Short Walk to Yal Ku Lagoon
Spa Nearby
Taxi Service Available
Yoga studio nearby
DisplayRate
US$125-280/night plus tax
ENTERTAINMENT
Satellite / Cable
Television
Search Availability
Leave Review
[2]
On Beach
Newly remodeled beachfront condo with stunning ocean views!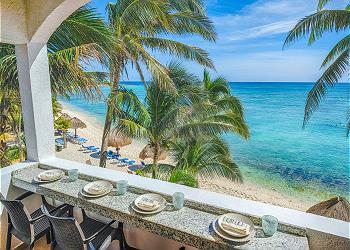 [3]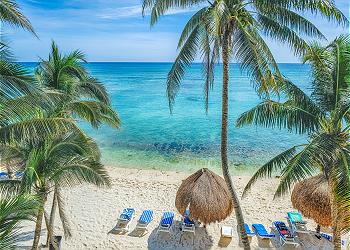 [4]
[5]
[6]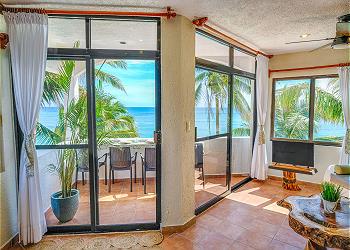 [7]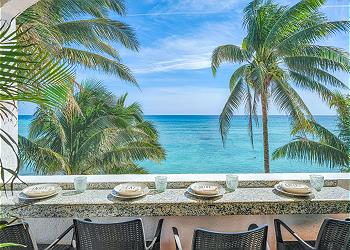 [8]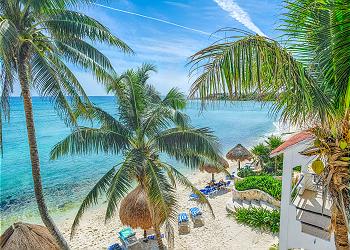 [9]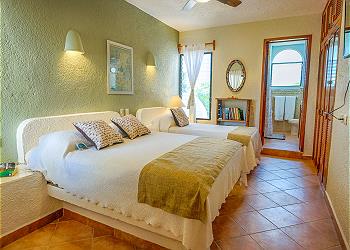 [10]
[11]
[12]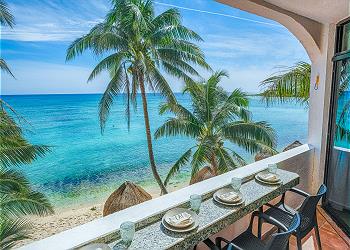 [13]
[14]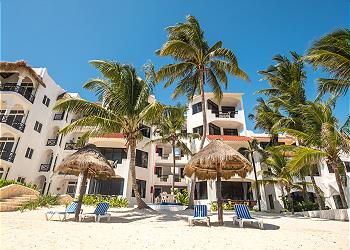 [15]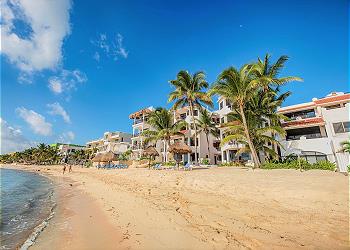 [16]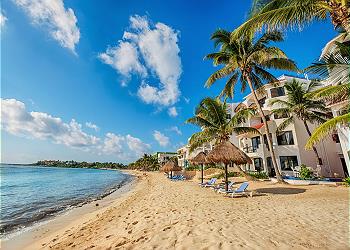 [17]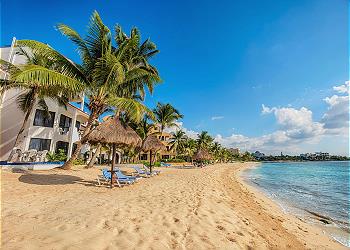 [18]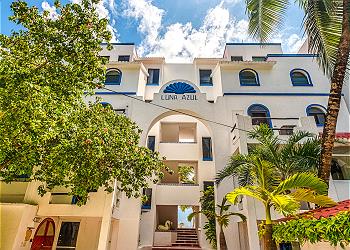 [19]
[20]
[21]
[22]
[23]
[24]
[25]
[26]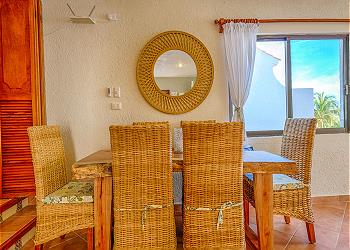 [27]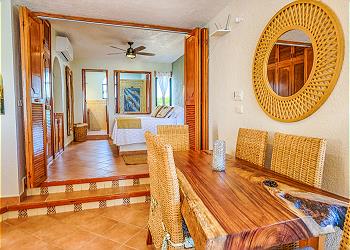 [28]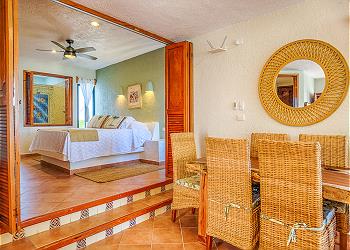 [29]
[30]
[31]
[32]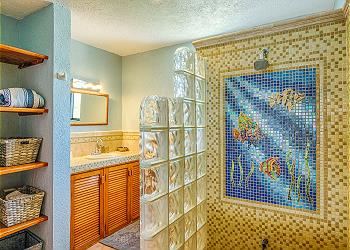 [33]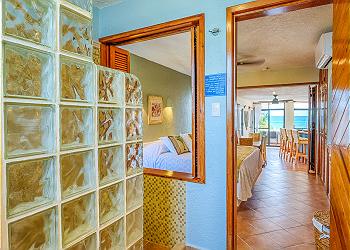 [34]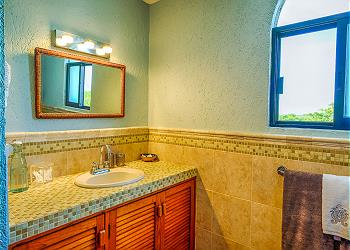 [35]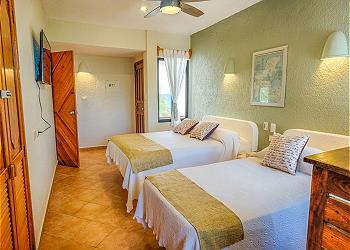 [36]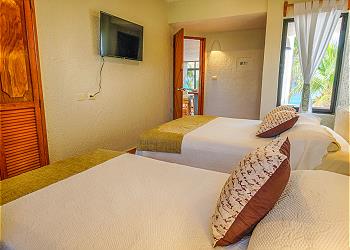 [37]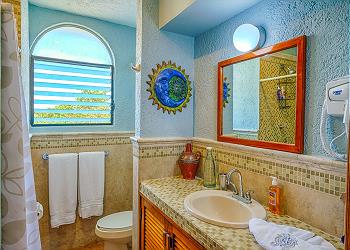 [38]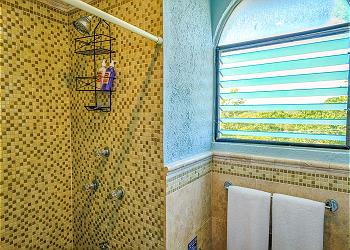 [39]
2 Bedrooms
2 Baths
Luna Azul Condominium, Unit #5. This third level unit offers exceptional views of Half Moon Bay and the Caribbean beyond. The beachside terrace is a perfect place to watch the sea turtles feeding and playing in the bay, schools of tropical fish, osprey, pelicans and other marine wildlife. The breezes come off the bay and all is quiet and private.
The unit offers a fully equipped kitchen with a new cooktop/oven, coffee maker and all appliances that you may need to prepare your own meals or enjoy snacks and cold drinks on the beach. Off of the kitchen is the dining area with seating for six and a bar top for 4 more. From the living and dining areas you can enjoy the view of Half Moon Bay through a wall of windows and sliding doors leading to the beachside terrace. The terrace is furnished with a beautiful granite bar and chairs for you to enjoy dinner and drinks with the breezes and sounds of the surf.
To the rear of the unit are two bedrooms. The master bedroom is spacious and private with large master bath and king bed. The guest bedroom is furnished with one double bed and one single bath and enjoys a private bath. AC in bedrooms. Ocean views from all rooms in the condo, including the master bathroom.
Luna Azul is one of our favorite condominium properties. It has a great central location within walking distance to Akumal's Yal-Ku Lagoon, restaurants and other services. The management here is excellent and always takes great care of our guests.
PLEASE NO SMOKING
KINDLY NOTE: During the summer months, south winds may bring Sargasso Seaweed to some beaches throughout the Caribbean, including the Riviera Maya. Please know that our onsite teams work very hard to ensure the best possible beach conditions for your stay. As a consideration, you may also see special seasonal discounts applied to during the summer months.
The Riviera Maya is full of natural beauty, places to explore and opportunities for outdoor activities. We have a great list of activities and adventures completely unaffected by the arrival of sargasso that we would love to share with you. There is so much to see and do in this special place, we know that you will have an amazing and memorable vacation!
Location:
Luna Azul Condominiums
Camino Yalku, Half Moon Bay road north
77760
Akumal
Mexico
20° 24' 20.2392" N, 87° 18' 32.6484" W
MX